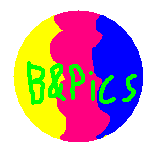 B&Pics is TV channel that airs all throughout the ocean. It is channel 101
Shows
Feel free to add some shows.
Other Blocks
Monroe And Kids
The Twin Show
SpongeBob Parties!
SpongeBob Plays...
SpongeBob Shoppers
SpongeBob Ultra
SpongeBloopers
SpongeGuide
SpongeFight
SpongePow(SpongeFight Alternate)
Squidward Chat
Squidward House Party
SpongeBob: Out and Active
Patrick: Star vs. Food
Squidward: How to make art
Mr Krabs: Restaurant tips
Sandy: How To Fight
Plankton: Collateral Damage
Pearl: Cheerleading Tips
SpongeBob SquarePants
Big Bob
Time Sponge
3D!(Only availible in B&Pics 3D)
SpongeBob GeniusPants
SpyPants!
Jellyfish Jam
SpongeBob 8-Bit
When Sponges Go Bad (only on B&P [Adult])
Tiny B-A children's block that airs in the morning(Now known as B&Pics Junior)
B&P[Adult]-A block for adults that air overnight
Monroe's Adventure
Other Parts of B&Pics
Sponge Nights-On Wednesday nights B&Pics airs new episodes of the funny shows(Recently moved to Monday)
Action Star-On Friday nights B&Pics airs new episodes of the action shows(Still airs on Friday nights today)
New New New!-On Wednesday nights B&Pics airs new episodes of all the other shows(Started ever since Sponge Nights was moved to Monday)
Motto
"All the SpongeBob Hits!"
B&Pics in other forms
B&Pics HD
B&Pics HD offers HD to the B&Pics channel.It is channel 606,in reference to the normal channel number:101. MANY of the shows are HD, so i'll plainly list the shows that are NOT HD:
SpongeBob Shoppers
SpongePow
SpongeBob SquarePants(the actual show)
SpongeBob 8-Bit
Not much. But look at this:
B&Pics 3D
B&Pics 3D offers B&Pics being 3D!Not much of the shows are 3D. But here are the ones that are:
3D!(only available in B&Pics 3D)
SpongeBob:Out and Active
Patrick:Star VS Food
SpongeTwins
SpongeBob's Greatest Adventures
Spy Buddies
The Mermaid Man Show
Krabby Road
Cartoon City
Not much compared to the number of B&Pics shows!
B&Pics On Demand
Yes!Channel 1(or 999!)!So,yeah.All the shows are on demand!So...yeah.
B&Pics Too
This is B&Pics Too. Its basically an alternate channel for B&Pics! The only difference with the programming schedules,its an hour and a later than the normal channel.
B&Pics DVD
B&Pics DVD is when their shows are on DVD. The shows most put on DVD are:
SpongeTwins
SpongeBob's Greatest Adventures
Cartoon City!
Idents
Crystal Ball-A fortune teller(SpongeBob)makes a prediction while the crystal ball turns into the B&Pics logo
Paintball-Yellow,red,and blue paintballs squish together making the B&Pics logo
Glasses-The Logo appears blurry but then glasses show,then rubbed and "put back on". Then the logo is clear
The 4th Wall(Only on B&Pics HD,replaces "Glasses" indent sometimes)-It appears not HD,but it shows SpongeBob going to the black part on an HD TV then pulls the logo on screen.
Dirty Wall-Squidward goes to a dirty wall,sighs,and wipes it off with a mop.Then the logo appears.
Fusion-SpongeBob,Patrick,and Squidward fuse together making the logo
Green Paint-SpongeBob paints the logo(wordless; doesn't have "B&Pics" on it),looks at it for a second,then adds the "B&Pics" on there
Random Raisin Bran-SpongeBob makes the logo out of raisin bran(the raisins are the words)then the Raisin Bran version of the logo turns into the logo.
Fighting-SpongeBob plays a video game were Mr. Krabs punches the star of the show next and they turn into the logo
Getting Into Character-The B&Pics logo rolls in then shows what's up next
Quickdraw-It shows a quick draw of a hand(much like SpongeBob's)appearing then drawing the B&Pics logo.
Quickdraw 2-It shows the same hand from "Quickdraw" drawing the words"Coming Up Next Is ___,On B&Pics!" along with the star of the show.Then there's an actual voiceover.
Marble- A Mario rolls around the screen,then it goes to the center then gets bigger,then it shows the "B&Pics" logo
That Our Patrick-It shows Patrick Roll the B&Pics logo and the Words say Coming Up Next Is That Our Patrick, On B&pics. Then the voiceover read it
Trivia
Tiny B is based off of Playhouse Disney(Now B&Pics Junior/Disney Junior) while B&P adult is based off of Cartoon Network's Adult Swim!
The colors of the logo were based off SpongeBob(Yellow),Patrick(Pink),and Squidward(Blue).
Ad blocker interference detected!
Wikia is a free-to-use site that makes money from advertising. We have a modified experience for viewers using ad blockers

Wikia is not accessible if you've made further modifications. Remove the custom ad blocker rule(s) and the page will load as expected.