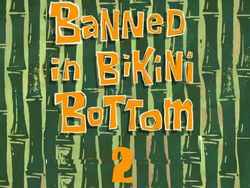 Plot
SpongeBob and Patrick are having their usual fun, annoying Squidward, who phones Mrs. Gristle Puss to ban them from Bikini Bottom. Seeing and hearing this, Danny uses a hammer to Hit a peice of wood in the Krusty Krab, launching her all the way to Goo Lagoon. She then attempts to return the favor and kill Danny.
Ad blocker interference detected!
Wikia is a free-to-use site that makes money from advertising. We have a modified experience for viewers using ad blockers

Wikia is not accessible if you've made further modifications. Remove the custom ad blocker rule(s) and the page will load as expected.