Eugene Harold Krabs (born November 30, 1942, Age 73) is a main character from SpongeBob SquarePants. He is an extremely greedy crab who likes money and he collects money from selling Krabby Patties. He protects his KP's from Plankton. He owns the Krusty Krab. His first wife was a whale who gave birth to Pearl. His step wife/2nd wife was Bebe Krabs. He divorced her, so he has Natalie as his wife now. There is an episode called Mr. Krabs's Date, but nobody knows if he will marry. He is enemies with Plankton and the Anti-Money Inc.
He was the chairman and wrestler of a company called WWC. He was inducted to the Hall of Fame in 2014. He was a general and Medal of Honor recipient of the Bikini Bottom Army.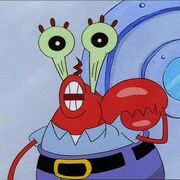 Education
Poseidon Elementary (Kindergarten, Grades 1-6)
Seaweed Jr. High (Grades 7th and half of 8th)
Bikini Bottom Jr. High (Grades 8th and 9th)
Bikini Bottom Senior High School (Now just Bikini Bottom High) (Grades 10-12)
Shelby College (2 years) (Was kicked out)
Bikini Bottom University (1 year, then quit)
Fanon appearances
Gallery
Trivia
Ad blocker interference detected!
Wikia is a free-to-use site that makes money from advertising. We have a modified experience for viewers using ad blockers

Wikia is not accessible if you've made further modifications. Remove the custom ad blocker rule(s) and the page will load as expected.