Everybody's Paradise on disaster

Owner

Spongefan2

Everybody's Paradise on Disaster is a Fan-fiction series created by Spongefan2 that anyone can help write! It's about SpongeBob and friends goes on there own paradise
Episodes
Season 1
please add more
Title card
#
Title
Airdate

1

"The Disaster Pilot"
december 1 2009,
SpongeBob goes to a spongy paradise but Patrick is not allowed its DISASTER.

2

"rick ward paradise"
december 1 2009
Squidward do not know who is paradise is better and he goes to Patrick.

3

"Art in my Paradise"
2 december 2009
Squidward makes art in Patricks paradise

4

"The True Spongesaster"
2 decamber 2009
SpongeBob goes to jail because of the fire and Patrick will save him

5

"The Puffers paradise"
3 december 2009
SpongeBob reavels that mr.Puff teach sponges on spongy paradise

6

"On Fire Paradise"
3 December 2009
SpongeBob gets on fire and when touch on fire too its up too Patrick and Squidward to dry him

7

"The Cave Of Doom"
4 december 2009
SpongeBob got lost in Patricks paradise and he ruind everything

8

"mr.Krabs is back"
4 december 2009
mr.Krabs and Squidward joined to find a paradise for mr.Krabs and meth SpongeBob and Patrick

9

"Attack of the Living Krabby Disasters"
december 7 2009
Plankton turns the Krabby Patties alive and they eat him so he can rule all paradise.

10

"Sandy thinks its texas"
december 9 2009
Sandy invite her family to texas paradise but Patrick is making trouble

11

"Deep Sea Library"
December 11 2009
SpongeBob and his new partner spongesmar goes to deep sea city and spongesmar wants to avenge his umbrellamouth gulper

12

"The Ouch"
12 december 2009
Patrick Touch THe gulper and it makes him sick SpongeBob pretends to be a doctor

13

"Wow The New Squid"
december 15 2009
SpongeBob meets parasquid and invite him to Squidwards Squidward and squidliam team up to stop him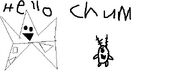 Hello Chum (a parody with Chum cakes yah!!)
Plankton Makes a paradise but Patrick destroys it.
running gag: Patrick keeps triping over boxes and there contents fall on Plankton
1st box: Patrick walks in and he trips over it. Straws smother Plankton. He is tired.
2nd box: Patrick hits in while exploring "chum caves" it contained water. Plankton is wet and angry, he throws a rock at Patrick and Patrick faints
3rd box: Plankton pulls a Krabby Patty out of Patrick's pocket but when sees Plankton has a Krabby Patty she gives him a thumbs up and reachs for it, but then a ton of buns fall on him. End
Epilouge: Plankton comes out from an enourmas pile of buns and says: I can't find it!!!!!
Workers
Please put your username here if you would like a job in this series an episode for this series. Remember, anyone can join. You may write down any other job in the show you'd like to be (Director, Storyboard Artist, etc.)
Spongefan2-Owner
SuperSaiyanKirby-Title Card Artist/Director/storyboarder
Nivck - Additional backup/Episode maker
ANNOUNCEMENT
every season final is a tv movie this is the first tv movie "Too late" and the next one will be "The Big End!
will someone work here please but SuperSaiyanKirby Created A new Episode Ep.9
Trivia
It has been announced that there will be 25 episodes per season