| | |
| --- | --- |
| | This page has been featured by the SBFW community. |
This series is on hiatus.
This series is currently on hiatus. You may have to ask permission to remove this from or add this to a page. When this hiatus is over, please remove this template to prevent confusion.
Approved by DanzxvFan8275

This article has been rated pretty damn great by DanzxvFan8275, an administrator of the site.

If you see this on an article, it's fricking amazing.

This Article is Jasbre Approved

FutureBob ElectronicPants has been liked and approved by TheJasbre202, your lord and master.

Rated SPG - Strong Parental Guidance

This article is rated SPG, meaning it contains content that may be inappropriate for users the age of 13 and under.
Objectionable content includes: Themes, Violence, Language
FutureBob ElectronicPants is a spin-off created by TheJasbre202 that takes place in the year 3017. Robots have taken over most of the population, while descendants of our beloved characters, (SpongeBob, Patrick, Sandy, Mr. Krabs, Squidward (the President) and Plankton) are some of the only living beings left in this world. The series is set to premiere in May of 2017 on TheJasbre202 TV. It was later revealed that the show will premiere May 12, 2017, closer than the original summer premiere planned. The show airs every Friday at 10 PM CST on TheJasbre202 TV. Since May 18, 2017, there have been awards with all the names and pics chosen by creator, TheJasbre202. On July 27, 2017, it was announced that each individual season will have a different series title card. The series has been deemed the renaissance of great SpongeBob Fanon Wiki spin-offs, with the creative ideas, title cards, and writers. Ironically, the creator also works and co-showruns Basket Sponge's fourth season, also known as he revival. DanzxvFan8275 also has been praised for his spin-off Life in Bikini Bottom for being edgy and original, like more of the golden age spin-offs from the early to mid 2010's. The series does have some people from the golden age of SBFW, which results in the series having that nostalgia.
Crew
Characters
Episodes
For the series, TheJasbre202 runs the show, while he and Rocky Lobster write the season plot, while writers make it into a script and TheJasbre202 directs, SBCA produces. The show is planned to air on TheJasbre202's youtube channel as a radio show. [1]
Series Overview
Season
Episodes
Premiere Date
Finale Date
Code
#
Executive
Producer(s)
1
16
May 4, 2017
September 30, 2018
1AFBxx
1-16
TheJasbre202
2
16[2]
October 14, 2018
2019
2AFBxx
17-32
Specials
2
October 7, 2018
N/A
0AFBxx
N/A
Season One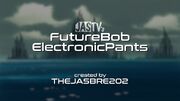 On May 3rd, 2017, it was announced that the show will also air on Luis TV and UltraFuse. On May 18th, 2017, TheJasbre202 announced that the series will have a DVD release for the season in December, 2017, and that there will be podcast versions of these episodes on his YouTube channel. On May 20th, 2017, TheJasbre202 added The TIG to list of channels airing FutureBob, and it would be the final channel to air it.
Title Card
#
Title
Airdate

1

"Episode I: The Setup"
May 4, 2017
5 years ago, SpongeBob lost Patrick in World War III, and today a note was sent to him saying that it's Patrick and he's still alive.

2

"Episode II: Robot Evolution"
May 12, 2017
SpongeBob is ambushed by a ton of Robots, but 2 mystery guests are just in time to save the day!

3

"Episode III: Plans"
May 19, 2017
SpongeBob makes a plan, but it's halted when robots attack!

4

"Episode IV: The Hunt for Patrick"
May 26, 2017
The gang sets out to find SpongeBob's lost war buddy, Patrick!

5

"Episode V: President Tactics"
June 3, 2017
As SpongeBob and friends are fighting their way through, as President Tentacles releases the new and improved robots!

6

"Episode VI: The Blue"
June 16, 2017
A blue mist fogs in as the gang gets closer to finishing their journey!

7

"Episode VII: Where's Gary?"
June 16, 2017
SpongeBob and friends hunt for his lost pet snail, Gary!

8

"Episode VIII: A Big Battle"
August 5, 2018
Gary tells his story between World War III and the present.

9

"Episode IX: Lost in the Void"
August 12, 2018
The gang are in the middle of hunting down Squidward but then fall into a void.

10

"Episode X: Forest Frolics"
August 19, 2018
During a battle, Sandy, Mr. Krabs and Candy get cut off from the rest of the group inside an African Jungle!

11

"Episode XI: Brothers Unite!"
August 26, 2018
TBA

12

"Episode XII: Desert Times"
September 2, 2018
The gang gets stranded in the desert while trying to stop Squidward.

13

"Episode XIII: World War IV"
September 9, 2018
TBA

14

"Episode XIV: Squidward's Last Words"
September 16, 2018
TBA

15

"Episode XV: Robot Battle (Part 1)"
September 23, 2018
TBA

16

"Episode XVI: Robot Battle (Part 2)"
September 30, 2018
TBA
Season Two
On July 21st, 2017, TheJasbre202 announced a 16-episode second season was in development[3], and it would be the beginning of a changing point in the series. This season will air on TheJasbre202 TV, Luis TV, UltraFuse and The TIG. This season will premiere on December 1st, 2017.[4] A special will air in this season on Squidward Tentacles LXI and his presidency, The Terrible Travis might guest write. On August 7th, 2017, it was announced that Rocky Lobster would direct in the 2nd season.
Title Card
#
Title
Airdate

[[Image:|95px]]

17

"Episode XVII: TBD"
October 14, 2018
TBA

[[Image:|95px]]

18

"Episode XVIII: TBD"
October 21, 2018
TBA

[[Image:|95px]]

19

"Episode XIX: TBD"
October 28, 2018
TBA

[[Image:|95px]]

20

"Episode XX: TBD"
November 4, 2018
TBA; Winter themed episode.[5]

[[Image:|95px]]

21

"Episode XXI: TBD"
November 11, 2018
TBA

[[Image:|95px]]

22

"Episode XXII: TBD"
November 18, 2018
TBA

[[Image:|95px]]

23

"Episode XXIII: TBD"
November 25, 2018
TBA

[[Image:|95px]]

24

"Episode XXIV: TBD"
December 2, 2018
TBA

[[Image:|95px]]

25

"Episode XXV: TBD"
December 9, 2018
TBA

[[Image:|95px]]

26

"Episode XXVI: TBD"
December 16, 2018
TBA

[[Image:|95px]]

27

"Episode XXVII: TBD"
December 23, 2018
TBA

[[Image:|95px]]

28

"Episode XXVIII: TBD"
December 30, 2018
TBA

[[Image:|95px]]

29

"Episode XXIX: TBD"
January 6, 2019
TBA

[[Image:|95px]]

30

"Episode XXX: TBD"
January 13, 2019
TBA

[[Image:|95px]]

31

"Episode XXXI: TBD"
January 20, 2019
TBA

[[Image:|95px]]

32

"Episode XXXII: TBD"
January 20, 2019
TBA
Specials
In June 2017 TheJasbre202 announced a special based on Patrick's Journey would air after the final episode of Season One. On July 31, 2017, a special based on Squidward's presidency history would air during or after Season Two, with Mushroom Stew guest writing.
Story Arcs
Merchandise
Home Video
On May 3rd, 2017, the first season release date for Region 1 and A, Blu-Ray and DVD has been announced for December 12, 2017, just in time for christmas shopping. A special edition with bonus DVD with a version of the season as a movie, just without the intro, title cards and end credits. On March 5th, the date for the season 1 release was pushed to December 2018 and early 2019.
Season
Episodes
Region 1/A
Release Date
Region 2/B
Release Date
Region 4/C
Release Date
# of Discs (DVD)
# of Discs (BD)
1
16
December 12, 2018
February 14, 2019
February 21, 2019
3
2
2
16
TBA
TBA
TBA
N/A
N/A
Awards
This is to showcase the awards that the series won and was nominated for.
Critical Reception
Polls
Season One (2017)
Reviews
Season One (2017-18)
"So far, the series plot and the scripts make this one of those top SBFW spin-offs, I really think you all will enjoy the entry to the series, the plot is very epic and awesome, some of the best SBFW writers work on this show." -

TheJasbre202

(

M

•

C

•

U

•

E

)
"I wasn't expecting this. This is actually one of the best SBFW spin-offs around (recent or still active) so far, simply because it's so much better than a lot of the stuff on here and although it's slightly edgier ​than the original show itself, it captures what made it so good, as well as having a slightly more dramatic and atmospheric feel to it, which I love. It's very rare when I have to give this much praise to a spin-off so well done, Jasbre, you done a good deed." - Just a peppermint tea for me. (talk) 14:31, May 18, 2017 (UTC)
"Stunningly and brilliantly in-depth and well-thought out, 8.5/10" - Luis~SBCA M C  #Laban Pilipinas!  

 02:54,05/19/2017 

"I may not recommend it for best of the wiki, but it's something that's creepily grown in the wiki in 2017." --I never really sign off anymore, so why do I use these again? (talk) 06:15, May 19, 2017 (UTC)
Way too overhyped by TheJasbre202, I really don't consider it as one of the best on the wiki. Many inconsistencies and a redundant plot base. However, I'm willing to see what else can be changed. Please don't ask me about this, just constructive criticism here. KrabbyBee (talk) 16:40, May 19, 2017 (UTC)
It's okay, but it's not anywhere near the best -SamsungWtr (talk)
a show dat is about relatives of da crew trying to survive as evil wobots have taken over. tem had to pull all his courage together to wead dis but i eventually did it, a it is a bloody sans good show! a tem is serious when i use 'bloody'. da only pwoblem is dat it can bore sometimes a da writing style feels WAY 2 overrated but deez 2 things r easily looked over (a the writing i saw to improve when me bestie gets an ep). overall, dis show manages to b 2 much of a hypa but way underwated a da same time. polar just asked tem 2 remove da hyp-e ting but tem refuses so overall i gives dis show a four outta feeve. oh, why i dis called fewerbob electionpants again? - tem
Season Two (TBA)
Don't add any review here, unless you review this season WHEN it's coming out, otherwise, post your review under Season One.
References