Community Page

This article is a community page, meaning that anyone can contribute to it. Please don't contribute, however, if this page is a show and it has either ended or is on hiatus.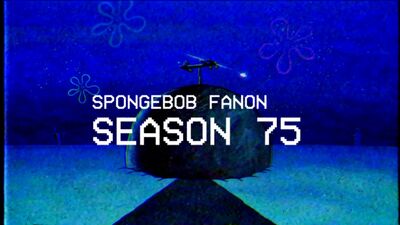 This season is part of SpongeBob fanon. The season will premiere on September 22, 2131 and end in May 9, 2132. It contains 26 episodes, and this season was showran by TheJasbre202 and Rocky Lobster. A new series arc written by Somematchyguy began with episode 9 and ended with episode 12.
Title card
No. in series
No. in season
Title
Description
Air date
1572
1
Seaquake Seen Across the Sea
A sequake hits the town of Bikini Bottom, and it's resthome, causing destruction. Mr. Krabs, Mr. Shicowa, Adam are barely hurt, but due to Bikini Bottom's budget, they're transferred to the Kelp City retirement complex, Maja moves with them to film her new show, Maja Avery's Wildlife Experience. (Also leads to the spin-off Better Days.)
September 22, 2131
1573a
2a
MermaidKid and BarnacleBean VI
Shadow returns and threatens the citizens of Bikini Bottom that if he doesn't get MermaidKid and BarnacleBean, he will spread a fatal disease across the sea.
September 29, 2131
1573b
2b
Fuck Yer Banana
Baby Craps begins thinking Banana is a swear word, so he starts blabbing it at daycare and throwing them at the fellow kids.
September 29, 2131
1574a
3a
Physically Inactive
SpongeBob tries to convince Patrick to do some exercise.
October 6, 2131
1574b
3b
A Squid's Choice
Squidward can't decide whether to go to work or have the day off with a sick SpongeBob next door.
October 6, 2131
1575a
4a
Plankton's Last Hurrah
Plankton's last attempt to steal the formula (for the time being) is to disguise as Patrick Jr. to steal the formula. Obviously, since Patrick Jr. shouldn't even appear in this show, SpongeBob gets suspicious.
October 13, 2131
1575b
4b
The Suds Epidemic
After sneezing on everyone in the Krusty Krab, SpongeBob causes the ultimate Suds epidemic. Can he save everyone in town from being sick before it's too late?
October 13, 2131
1576a
5a
Spongebob vs. SpongeBob
SpongeBob gets triggered by several idiots on the internet misspelling his name. He tries to track them down and attack them.
October 20, 2131
1576b
5b
Plankton's Retirement
After missing Krabs and getting bored and tired of life, Plankton decides to retire to the Kelp City Retirement Complex.
October 20, 2131
1577a
6a
THE SCARY EPISODE SO SCARY IT IS BANNED AHHHHH
The legendary scary episode, so scary it was locked away in the Jasbre TV studios, I am currently working there and found a tape of it, I am putting it in my VCR and
November 3, 2131
1577b
6b
fak u
Spongebob kills everyone and eats Mr. Craps lobster balls.
November 3, 2131
1578a
7a
Oh yeeah mista caps
Mr. Craps goes to school and looses his water bottle. Will he die?
November 17, 2131
1578b
7b
Sucka Sponge
Spongebob buys a sponge.
November 17, 2131
1579a
8a
MermaidKid and BarnacleBean VII
After a disturbance at the bank, 2 robbers escape with all the richest people in Bikini Bottom's money. MermaidKid and BarnacleBean are called up one last time to find the culprits and bring them to justice!
November 24, 2131
1579b
8b
Gary's Horny
Gary starts meowing like crazy, and SpongeBob tries to figure out why.
November 24, 2131
1580
9
Multidimensional
After accidentally activating Sandy's dimension portal again, SpongeBob and Patrick enter a new dimension, the multi-dimension. They can view every single dimension in the multiverse. When they find Mr. Krabs, Adam, Maja and Patrick Jr., they attempt to save them from their current state. However, it causes a rip in time, so SpongeBob and Patrick try to fix it. They fix it, but it causes the former characters to duplicate. Now they can be in two places at once!
December 8, 2131
1581a
10a
Dimensional Jet Lag
Maja wonders what happened to her when she somehow winds up back in Bikini Bottom. Sandy tells her that she duplicated and her other self is in her spin-off. Can Maja handle this?
January 18, 2132
1581b
10b
Crustacean Battle
After being duplicated, Mr. Krabs find himself in Bikini Bottom. After receiving an explanation, he decides to buy back the Krusty Krab. However, Mr. Crustacean doesn't want to sell it to him.
January 18, 2132
1582a
11a
Mr. Craps vs. Mr. Krabs
Mr. Krabs encounters Mr. Craps while visiting the Bikini Bottom preschool. Will the old crab win, or will the baby crab win?
January 25, 2132
1582b
11b
Missing Shicowa
Mr. Krabs starts to miss Mr. Shicowa, so SpongeBob tries to make him feel better.
January 25, 2132
1583a
12a
Stupid Teenagers
Mr. Krabs sees what happened to his anchor house while he was away. Pearl had turned his house into a teen house!
February 1, 2132
1583b
12b
Goodbye for Good
When the time space continuum or whatever manages to fix itself, Mr. Krabs, Patrick Jr., Maja, and Adam have to say goodbye forever.
February 1, 2132
1584a
13a
THE FLOOR IS LAVA!
SpongeBob and Patrick see videos of the Floor is Lava challenge and decide to try the challenge their selves. Meanwhile, Squidward tries to permanently turn the floor to lava so he can rule the world.
February 8, 2132
1584b
13b
Medical Bargibant
Bargibant is being hunted for medical reasons, can SB save him?
February 8 2132
1585a
14a
Spot vs. Crustacean
Spot takes Plankton's place as head chef and owner of the Chum Bucket, but when Mr. Curstacean starts making fun of him on the news, it's time to start up the ol' Krusty Krab and Chum Bucket rivalry once again, but with Spot and Mr. Crustacean!
February 15, 2132
1585b
14b
SquidClone
Sandy accidentally makes a happy version of Squidward. The "SquidClone" befriends SpongeBob much to Squidward's annoyance.
February 15, 2132
1586a
15a
The Contraption
A strange contraption is in Bikini Bottom, and SpongeBob accidentally activates it, it wrecks havoc around Bikini Bottom.
February 22, 2132
1586b
15b
Welcome to Wacky Bottom
An error in one of Sandy's inventions causes SpongeBob, Patrick, and Sandy to be teleported to an alternate timeline where everything is really wacky.
February 22, 2132
1587a
16a
Beefy Sponges
SpongeBob finds out that Krabby Patty meat can be used as sponges, and makes a clone of himself out of Krabby Patty meat.
February 29, 2132
1587b
16b
Pepsi-Flavored Cheetos
When SpongeBob wakes up to see that Gary had found some Pepsi-Flavored Cheetos, he tries to find their rightful owner.
February 29, 2132
1588a
17a
The Sponging
SpongeBob watches a horror movie and keeps it a secret from his friends.
March 7, 2132
1588b
17b
Squidward's Helper
Since Squidward is so miserable, he gets a helper to do anything for him. Including getting rid of SpongeBob and Patrick!
March 7, 2132
1589a
18a
Merm Aids Men annd Brnicle Ben
2 teenagers try to copy MermaidKid and BarnacleBean.
March 14, 2132
1588b
18b
Clip Show
We see clips from Seasons 1-75, as SpongeBob loses his memory.
March 14, 2132
1589a
19a
Telathon
As the show loses viewers, it begins to lose characters, so the gang creates a telathon to create more characters. Erving, Hannah and John are added.
March 21, 2132
1589b
19b
John's Franks
John hires Squidward as a hot dog salesman at his weenie shack.
March 21, 2132
1590a
20a
Fapples
Hannah invents a new device that is supposed to cut apples into 97,252 pieces.
March 28, 2132
1590b
20b
Erving's Funeral Home
We revisit SpongeBob's father's grave at Erving's funeral home.
March 28, 2132
1591a
21a
The Kelp City Visit
SpongeBob and Patrick visit Kelp City to see the next Mermaid Man movie and run into Krabs and Shicowa.
Better Days Crossover in A Night on the Town.
April 4, 2132
1591b
21b
Bottom Park
Patrick, John, Erving and SpongeBob form a band like Linkin Park.
April 4, 2132
1592a
22a
The Second Cousin
Patrick accidentally meets one of his second cousins, Paddy!
April 11, 2132
1592b
22b
Crate Chaos
When the Krusty Krab is delivering a crate of Krabby Patties to another Krusty Krab at the Bering Strait, the said crate comes lose and now SpongeBob must get it.
April 11, 2132
1593a
23a
Tiny Troubles
Spot pretends to be a local citizen to fool Mr. Crustacean to getting a Krabby Patty
April 18, 2132
1593b
23b
Something Something Something Bright Side
Patrick starts to flash mirrors at people in Bikini Bottom
April 18, 2132
1594a
24a
The Battle of the Brains
After Paddy meets with Sandy Cheeks, they battle with a quiz to show who's smarter!
April 25, 2132
1594b
24b
Where Am I?
SpongeBob starts to disappear.
April 25, 2132
1595a
25a
😀 Madness
Patrick starts to speak emojis and everyone begins getting scared.
May 2, 2132
1595b
25b
Sponge Jr. Returns!
Sponge Jr. creates sunglasses, a hat, and new clothes to sneak into Patrick's house and get revenge on him for hurting him.
May 2, 2132
1596
26
A Journey Begins
Squidward quits his job and goes on a nature hike to find himself. (special)
May 9, 2132
Trivia
"MermaidKid and BarnacleBean VII" is (so far) the last appearance of the title characters as they moved to Better Days as well.
Plankton and Krabs will have a bit of a hiatus as a character until they return in season 82.
This is the last season with Pluto on the team.
RTheNoob74 returned in this season, under the nickname of RTehNoobv2.
13b's title card had to be remade due to the original being hard to read.