Community Page

This article is a community page, meaning that anyone can contribute to it. Please don't contribute, however, if this page is a show and it has either ended or is on hiatus.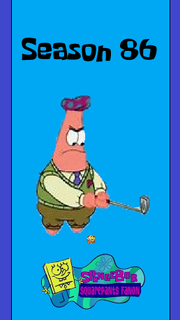 The season premiered on September 28, 2143, and ended in May 2, 2144. It contains 35 episodes, and it was showran by FireMatch. A big story arc is planned in this season.
Title Card
No.
No. in
Season
Title
Writer
Airdate

1933a

1a

"Super 80s"
FDBackup
September 28, 2143
The gang revisits and reimagines the 80s!

1933b

1b

"Queen Me!"
Someone on the internet
September 28, 2143
Hannah plays chess with John. When he gives up, it's Steve's turn. She always ends up winning.

1934a

2a

"Change the Formality"
FDBackup
October 5, 2143
Plankton is corrupting the world, and it's up to SpongeBob and friends to stop him.

1934b

2b

"Patch's Wedding"
PatchThePuppy
October 5, 2143
Patch and Magenta finally have their wedding, but things don't go as planned.

1935a

3a

"SquidClone 8"
Purple133
October 12, 2143
Squidward and SquidClone go around town in their first bonding experience!

1935b

3b

"Nearing 2,000"
Purple133
October 12, 2143
SpongeBob plans a rocking party for the 2,000 episode, but forgets what episode the show is on and accidentally plans it for the 1,999 episode.

1936a

4a

"Fool Me Thrice"
Purple133
October 19, 2143
Patrick goes around pranking people until he pranks a big tough dude who beats him up.

1936b

4b

"Mr. Craps at Court"
Purple133
October 19, 2143
Following the event of the Season 85 finale, "Life Attempt", Mr. Craps must attend court where he is sued for attempting to kill SpongeBob.

1937

5

"A Spoopy Halloween"
UmheyIguess
October 26, 2143
The residents of Bikini Bottom eat candy with drugs hidden in them, and hallucinate pretty spoopy things.

1938a

6a

"Bargibond"
FireMatch
November 2, 2143
SpongeBob decides to spend some time with Bargibant, and learns how good of a guy he really is.

1938b

6b

"Cracked App"
FireMatch
November 2, 2143
Patrick Jr. tries to get Sony Vegas for free on Patrick's laptop, but it turns out the file is just a virus. Can he remove the virus before his father finds out?

1939a

7a

"Red Bomb"
FireMatch
November 9, 2143
When a red bomb threatens to ruin SBFW, Squidward decides to take a stand, mostly to keep up his SpongeBob propaganda.

1939b

7b

"Spot the Plot"
FireMatch
November 9, 2143
Gary catches Spot planning another "steal the formula" scheme. He tries to stop the plan from taking place, but Spot is a few steps ahead.

1940a

8a

"A Whole Bunch of Ricks"
FDBackup
November 16, 2143
The characters from SBF meet the characters from (pat)Rick Figures.

1940b

8b

"Scary Dream"
Mimara 2
November 16, 2143
SpongeBob has a scary dream.

1941a

9a

"MermaidOof and BarnacleBoi 4: A Formula Worth Fighting For"
MightyCameron269
November 23, 2143
Plankton Jr. is planning to steal the formula, but MermaidOof and BarnacleBoi try to steal it back. (You know why)

1941b

9b

"Prison Escape"
Purple133
November 23, 2143
Continuing the "Life Attempt" story arc, Mr. Craps must team up with some prisoners to escape prison.

1942a

10a

"Story of My Life"
Purple133
November 30, 2143
The viewers get a glimpse into the life of Squilliam Fancyson.

1942b

10b

"The Huge Surprise Pt. 1"
PatchThePuppy
November 30, 2143
Patch follows clues Magenta planted for him to find out a big surprise.

1943a

11a

"The Huge Surprise Pt. 2"
PatchThePuppy
December 7, 2143
Patch finds out all the clues, to find out he's going to be dad!

1943b

11b

"Professor Absorption!"
FDBackup
December 7, 2143
Plankton hires a crazy professor to help him take over the world.

1944a

12a

"The Mint"
David Thibodeau
December 14, 2143
SpongeBob tries to get Patrick to take a mint for Patrick Jr.

1944b

12b

"Retar'd State"
MightyCameron269
December 14, 2143
Patrick gets a job at Altar'd State. Sounds easy, right?

1945a

13a

"On the Run"
Purple133
December 21, 2143
Mr. Craps and his gang of criminals are on the run! (Life Attempt episode)

1945b

13b

"Biased Duck"
FireMatch
December 21, 2143
The black duck decides to censor SBF after seeing an episode making fun of him. Everyone starts protesting like shit.

1946a

14a

"Juniors Attack!"
FireMatch
December 28, 2143
Mr. Krabs Jr. recruits Patrick Jr. to help him get the formula back from Plankton Jr.

1946b

14b

"Bubble Bass' Ass"
FireMatch
December 28, 2143
After seeing Bubble Bass's ass, Hannah falls in love with him.

1947a

15a

"Krabby Paddy"
FireMatch
January 4, 2144
Mr. Craps hires Paddy to work at the Krusty Krab. However, he's horrible at the job and almost kills several people.

1947b

15b

"Dennis Returns"
RainbowNoob123
January 4, 2144
Dennis returns for revenge on SpongeBob and Patrick. They have to go get the Magical Orb to rid him from the ocean forever.

1948a

16a

"Just End This Show"
AFallenPower
January 4, 2144
One of the writers of this show by the nickname of "AFP" starts to erase the world for deeming it stupid enough to end, so it is up to Paddy, Patrick and SpongeBob to stop this guy.

1948b

16b

"Oops, I Just Wanted To Be Mayor"
AFallenPower
January 4, 2144
After Patrick wants to be the mayor of New Kelp City, he knocks out the mayor. It is up to him, Paddy and Squidward (SpongeBob was at work) to somewhat make it so nobody notices until the mayor wakes up!

1949a

17a

"Mr. Krabs' Funeral"
Professor A.
January 11, 2144
When Mabel goes to the Krusty Krab mailbox, she finds a letter that says Mr. Krabs died after a 2 day money coma with no brain activity. Everyone from Bikini Bottom sends money to pay for the funeral, but when they go to New Kelp City for it, they find Mr. Krabs alive and well. It turns out that it was a scheme orchestrated by him to swindle them out of money. The Bikini Bottomites proceed to stone him with poisonous sea urchins.

1949b

17b

"Death in Bikini Bottom, Part One"
Purple133
January 11, 2144
Mr. Craps and his crew kill SpongeBob. (Life Attempt episode)

1950a

18a

"Death in Bikini Bottom, Part Two"
Purple133
January 11, 2144
Mr. Craps and his crew must deal with the after effects of killing SpongeBob as now the SBFW crew is after them. (Life Attempt episode)

1950b

18b

"Death in Bikini Bottom, Part Three"
Purple133
January 11, 2144
The SBFW crew imprisons Mr. Craps for what he has done. (Life Attempt episode)

1951a

19a

"Restraining Magenta"
MightyCameron269
January 18, 2144
Magenta gets a restraining order, saying that if Patch and her don't get along one more time, they will get a divorce.

1951b

19b

"The New Puppies!"
PatchThePuppy
January 18, 2144
Magenta goes into labor and Patch starts to get worried. To the point he needs to go the hospital himself!

1952a

20a

"I'm Back!"
Purple133
January 18, 2144
SpongeBob is brought back to life by a mystical wizard. (Life Attempt finale)

1952b

20b

"Ploppers' Day Out"
MightyCameron269
January 18, 2144
Patch and Magenta decide to go to the Krusty Krab, but Plankton Jr. hypnotizes them to steal the krabby patty secret formula.

1953a

21a

"Spot N' Seek"
David Thibodeau
January 25, 2144
Spot plays hide and seek with plankton but once he cant find him he uses his sense of smell to find him.

1953b

21b

"SquidClone 9"
Purple133
January 25, 2144
SquidClone releases some new ice cream flavors.

1954a

22a

"Erving Versus Everyone"
Purple133
January 25, 2144
After seeing that views and ratings are at an all time low for the SBF series, Erving starts beating people up to try and up the views.

1954b

22b

"Trailer Crazy"
Purple133
January 25, 2144
A trailer for a new movie comes out and John goes crazy analyzing it.

1955a

23a

"The Narration Episode"
David Thibodeau
February 1, 2144
The French Narrator comes in and takes over an episode to describe the characters and their personalities.

1955b

23b

"The End of a Boringly Long and Unpopular Subplot -- For Now"
Professor A.
February 1, 2144
Professor Von Herring realizes that Pearl is a vampire and responsible for the attacks by the ski masked person. She and those she controlled attack von herring but he escapes. He, SpongeBob, Sandy, and Maja travel to the black sea to Count Deadfish's castle. They trap the count, and stake him, causing him and most of his vampires to dust. However, Pearl and everyone she bit are returned to their normal states and personalities.

1956a

24a

"Love is in Le Air"
Professor A.
February 8, 2144
SpongeBob invites Pearl out on a date after turning her from a vampire back into a whale. Their date goes well and they go back to his house and turn off the lights.

1956b

24b

"The Portal"
Professor A.
February 8, 2144
Plankton Jr. creates a dimensional portal, just like Dead Eye Plankton did. However this one did not make him evil, it sucked him, Karen Jr, Krabs Jr, Patch, and a heavily pregnant Magenta into it, presumably to another dimension. Sandy arrives too late to stop it but hears them all say one word. World War 4. A month later SpongeBob goes to Madame Hagfish for a fortune. She tells him that he will find out where the missing fish went all too soon.

1957a

25a

"Making Up for Lost Fish"
Professor A.
February 15, 2144
Beatrice Ackerfish becomes owner of the Krusty Krab in light of Krabs Jr.'s disappearance. Meanwhile, Spot becomes the sole owner of the Chum Bucket. Beatrice makes a surprising preemptive strike by having Mabel use her walker to knock out Spot while Beatrice steals the chum secret recipe purely for sport.

1957b

25b

"Jellyfish Sure Do Sting"
Professor A.
February 15, 2144
Maja finally begins her jellyfish documentary, but abandons the project after she gets stung half to death in an accident. She prepares to leave, but Sandy convinces her to stay as a lab partner.

1958a

26a

"Driving Dilemma"
Purple133
February 22, 2144
SpongeBob and Mrs. Puff trade bodies in a freak boat accident.

1958b

26b

"The Krusty Kab"
Purple133
February 22, 2144
Mr. Krabs Jr. decides to have a krabby patty delivery system so that people will pay more so they don't have to go to the Krusty Krab.

1959a

27a

"ZombieBob InfectedPants"
Purple133
February 29, 2144
SpongeBob contracts a zombie virus that can only infect people on a leap day.

1959b

27b

"Are You Happy Now? 2"
Purple133
February 29, 2144
Purple133 gets the SpongeBob episode "Are You Happy Now?" banned for being offensively bad; then he remakes it but it isn't a bad episode.

1960a

28a

"Chef Patrick"
Purple133
March 7, 2144
After SpongeBob shows him some tips, Patrick becomes an amazing chef; this in turn makes SpongeBob jealous.

1960b

28b

"A Bad Review"
Purple133
March 7, 2144
Someone gives SquidClone's ice cream parlor a bad review.

1961a

29a

"Barginmart"
FireMatch
March 14, 2144
Bargibant gets bored one day and decides to trash the local Barg N' Mart.

1961b

29b

"Mr. Craps' Crap"
FireMatch
March 14, 2144
Mr. Craps gets a million dollar fine after stinking up the entire ocean after taking a huge shit.

1962

30

"The Audience is Watching"
MightyCameron269
March 21, 2144
SpongeBob and Patrick get tricked into thinking that Bikini Caverns is cursed, however, deep within dark covers of rock, is the scariest monster of them all, the Watcher!

1963a

31a

"Remembering SquidClone"
MightyCameron269
March 21, 2144
SquidClone leaves the show beacuse he's to going to be in a brand-new spin-off that's called "Roommates".

1963b

31b

"The Word that Ended All"
AFallenPower
March 28, 2144
After Patrick learns a bad word from listening to a gang talk, he decides to use it on SBFW. After a few days, the entire world starts to delete itself.

1963c

31c

"Patrick in Trouble"
MightyCameron269
March 28, 2144
Patrick then gets grounded by Vyond (GoAnimate) Boris and Doris. CAILLOU YOU ARE GROUNDED GROUNDED GROUNDED GORUNDED FOR 263742525525255207751 YEARS

1964a

32a

"Tartar Cards"
David Thibodeau
April 4, 2144
A new game is invented by SpongeBob and his friends: whoever says tartar sauce has to do a daring dare!

1964b

32b

"Chili Bob Burrito Pants"
David Thibodeau
April 11, 2144
After losing a bet with Patrick, SpongeBob has to pretend to be a burrito for the whole week.

1965a

33a

"Xerox"
Purple133
April 18, 2144
Sandy accidentally makes a bunch of SquidClones and must stop them before they wreak havoc on Bikini Bottom!

1965b

33b

"Don't Lose Your Marbles"
Purple133
April 25, 2144
Patrick tries to traverse from his house to a pawn shop with a handful of marbles.

1966-1967

34-35

"The Beginning of the End"
TheJasbre202,
FireMatch &
Gene F. Scallop
May 2, 2144
SpongeBob wakes up in a hospital, where Dr. Character reveals to him that the past 10 months (or in this case, 10 Seasons) have been all a dream, and, that Bikini Bottom is in the middle of World War IV! [Season Finale; One-Hour Special]
Trivia
The season finale was originally planned for Season 85, but due to production timing, it was pushed to this season.
The story arc beginning at the season finale, will continue all the way to Season 90.
The season finale reverts things to how they were in the last ep of s75.