Under Construction

This article is currently in the middle of an expansion or major revamping. If you're the creator of the page, please help the SpongeBob Fanon Wiki by contributing to it. If not, please come by again soon!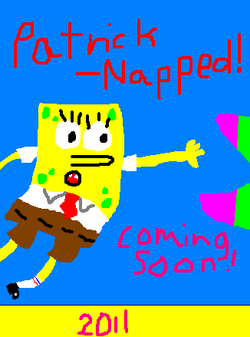 Patrick-Napped! is a SpongeBob movie.
Plot
When SpongeBob and Patrick are blowing bubbles, Patrick decides to take a nap. When he awakes, someone goes up behind him. It shows SpongeBob a minute later. Then he looks at his watch then sees its been a minute. Then he freaks out! He looks everywhere for Patrick, then about 15 minutes more into the movie, SpongeBob finds tracks. Then he tries to follow them. Later into the movie, when he finds himself in a jungle, he finds a tree, but no tracks around it. Then he finds an opening in the bush, larger than usual. SpongeBob then finds a HUGE robot that looks like Plankton. Then he spends some of the movie fighting it, and wins. Then SpongeBob keeps doing more stuff that's unimportant for the time then finds Plonton HQ, A.K.A. Chum Bucket Plus. SpongeBob then enters Plankton HQ (PHQ for short) then spends some more of the movie inside it. Then he finds Plankton, fights him for some of the movie, and gets defeated. Then rescues Patrick. They return back home,
THE END
Scenes
Bubble Time!
Patrick's Nap
Patrick-Napped!
Wheres Patrick?
Annoy Squid and Krabs
Consult Then Annoy Sandy
Tiny FootTracks!
Following...
Three Tree
Mega 'Bot
Pow!Biff!
Following Again...
The Patty Wagon!
Vroomin'
CRASH!
Walk The Troubles Away
Entering HQ
Inside HQ
Plankton Encounter
Plankton Fight
Plankton Lost
Patrick-Trapped!
The Combination
Saved!
Credits
Ad blocker interference detected!
Wikia is a free-to-use site that makes money from advertising. We have a modified experience for viewers using ad blockers

Wikia is not accessible if you've made further modifications. Remove the custom ad blocker rule(s) and the page will load as expected.