Patson is a alter ego with Patrick Star.
Patson
Gender
Male
Age
34
Hometown
Bikini Bottom
Born
1974
Professional Information
Profession
investigating
Friends and Family
Parents
Herb Star [father] Margie Star [mother]
Pet(s)
Smelly [formerly]
Behind the Scenes
First Appearance
The count and the scientist
Voiced by
Bill Fagerbakke
He is the sidekick of
Sherlock Sponge
.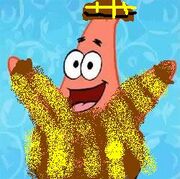 appearances
The count and the scientist
Ad blocker interference detected!
Wikia is a free-to-use site that makes money from advertising. We have a modified experience for viewers using ad blockers

Wikia is not accessible if you've made further modifications. Remove the custom ad blocker rule(s) and the page will load as expected.