This page is for Pearl Krabs from any person's continuity!
Usual role in fanon
In some fans' interpretation, Pearl would be a possible romantic interest for SpongeBob, since in some episodes of the series SpongeBob gets along well with her, with SpongeBob usually solving some of her problems and even accomplishing a romantic role for her sometimes. In SpongeBob, Patrick,:The Plankton Robot vs The Bowser Robot but she was brainwashed by Bowser then turned into an evil robotic Whale. Pearl Krabs is a character from SpongeBob who is Mr. Krabs' daughter and a whale. In Konnichiku's series, Pearl launches a music career and teams up with Swayzak to record a song called "Stop", which would soon become a hit.
Appearances in Fan Series
Friends
Enemies
Trivia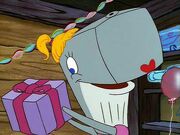 Ad blocker interference detected!
Wikia is a free-to-use site that makes money from advertising. We have a modified experience for viewers using ad blockers

Wikia is not accessible if you've made further modifications. Remove the custom ad blocker rule(s) and the page will load as expected.