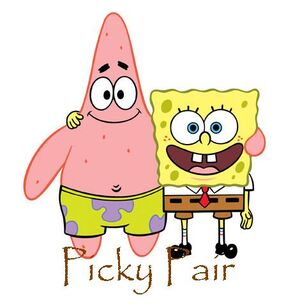 Picky Pair is the second episode in
The New Sponge. It airs Oct.2 along with Funny Fish.
Plot-
It is a nice summer day at Noon. King Neptune and Bubble Bass come to the Krusty Krab for lunch they have a bite.......NO CHEESE!!! SpongeBob gets fired and solves the mystery of....NO CHEESE!!! At the end, he gets hired again.
Characters-
SpongeBob
King Neptune
Squidward
Mr. Krabs
Bubble Bass
Patrick
Rocky
Ad blocker interference detected!
Wikia is a free-to-use site that makes money from advertising. We have a modified experience for viewers using ad blockers

Wikia is not accessible if you've made further modifications. Remove the custom ad blocker rule(s) and the page will load as expected.