Locations


Locations such as eateries, stores and more made by fans

Spin-offs


Fan-made series based off of SpongeBob with an original storyline
Featured Content
If there are any pages here that you like, you can nominate them for featured article/spin-off/media here.
Featured Article
Featured Spin-Off

The Grammatical Adventures of Calaz!





The Grammatical Adventures of Calaz! is the fifth episode of SBFW: After Hours. Calaz is hired to ref Day Care Basketball at the Gym, so he gets to go out of jail. There, he brings the preschools into wonderful grammatical adventures. (Read more)

Spongy Questions





Spongy Questions is a spin-off where SpongeBob answers your questions whether they may be personal or advice questions, he's always ready to answer! It was created by Pigboy but is now owned by Good Ol' Whatshisname. (Read more)
| | |
| --- | --- |
| Featured Article Nominees: | Featured Spin-off Nominees: |
What do you think should be our next featured article?
What do you think should be our next featured spin-off?
What's New on SpongeBob Fanon Wiki
Proposals and Discussions
---
---
---
Edit this month's proposals and discussions • See the history/archive of proposals and discussions
SpongeBob Fanon Wikia Central
Create blog post
Blogs
So because of all this SBFW Radio stuff, mainly quite a lot of users asking if they can join in on …

Read more >
See more >
Fan Blogs
I'm making a SpongeBob video game! Would anybody like to help with the construction of this game? It will be released in Spring 2017, so I need ideas from some SpongeBob fans.

Read more >
Sister Sites

Active Spin-Offs List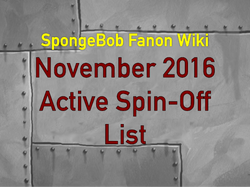 Ad blocker interference detected!
Wikia is a free-to-use site that makes money from advertising. We have a modified experience for viewers using ad blockers

Wikia is not accessible if you've made further modifications. Remove the custom ad blocker rule(s) and the page will load as expected.