| | |
| --- | --- |
| | This page has been featured by the SBFW community. |
Pluto Awards

You have won a Pluto Award!
Approved by DanzxvFan8275

This article has been rated pretty damn great by DanzxvFan8275, an administrator of the site.

If you see this on an article, it's fricking amazing.

Patch Likes

This thingamajig has been approved by this a plush puppy named PatchThePuppy.

tem leiks dis

give yourselfff a cooke

Ohai

SpongeBob n' Stuff may be remembered forever by HippyDippyHoop5, who is round like a donut!

Rated E - For Everyone

This article has been rated E, meaning it is suitable for everyone, by the PI Rating System.

SpongeBob n' Stuff
Original run
2016-Present
Genre
Cartoon, Comedy
# of seasons
3 (including Temmie n' Stuff)
# of episodes
11 (Season 1), 20 (ordered for Season 2), 5 (ordered for Temmie n' Stuff)
Spin-off status
Active
Writer(s)
PolarKey
DanzxvFan8275
SBCA
TheCreepyPastaLover
SpongeBob13579
Production company
PI
SpongeBob n' Stuff is a spin-off to the popular Nickelodeon show SpongeBob SquarePants created by PolarKey with his company Polar Inc.. The show was initially a generic SpongeBob show until it started referencing memes and therefore merged them together to create the spin-off we know today. It airs on Temmie Central. All shorts from season two exclusively air on Temmie Central's online streaming service.
Plot
When Bikini Bottom suddenly becomes home to your favourite meme characters, there are endless possibilities for SpongeBob and the gang's next adventure.
Cast
Episodes
Season One
Title card
#
Title
Airdate 

1

"Camping Trip (SNS)"
08/11/16
SpongeBob, Patrick and Squidward go on a camping trip. Meanwhile, Mr. Krabs robs himself.

2

"Thanksgiving (Kinda)"
13/11/16
SpongeBob learns about the holiday 'Thanksgiving' and becomes obsessed with thanking people and somehow gets possessed by Bill Cipher.

3

"Patrick Superstar"
13/11/16
Patrick becomes a superhero.

4

"R.I.P"
23/11/16
Squidward 'accidentaly' kills SpongeBob and must find the sea witch to bring him back to life (wow, this got dark so fast).

5

"And a Nappy New Year!"
31/12/16
SpongeBob and Sandy accidentally have a baby just in time for the new year and try to get rid of it but fail each time.

6

"Le Chum Bucket"
11/01/17
Squidward quits the Krusty Krab and becomes head chef at the Chum Bucket.

7

"Turn Down For Trump"
22/01/17
Donald Trump buys the Krusty Krab, after his son Stingy begging for it, which leads to Mr. Krabs and Plankton teaming up to get it back.

8

"A Temmie Reunion"
30/01/17
When Temmie's family come to visit (who belong to royalty), SpongeBob and Patrick think he'll leave Bikini Bottom for good!

9

"Goodbi"
14/02/17
When Squidward admits to his bisexuality, SpongeBob is determined to find his perfect match.

10

"Gaming the Game"
16/02/17
SpongeBob, Patrick and the gang get sucked into a video game dimension in one of Plankton's evil schemes. However, this evil scheme soon turns into one of Bill's, one that threatens Bikini Bottom.

11

"The Final Solution"
18/02/17
With Bill imprisoning basically everyone, SpongeBob sneaks out and teams up with a rebellion to give everyone freedom. (SEASON FINALE)
Season Two
Title card
#
Title
Airdate 

12

"My Hill"
02/03/17
When Mr. Krabs reads a story about a hill that can grant you freedom, fortune and overall goodness, he sends SpongeBob, Patrick, Temmie and new pal Kenny out to find it.

13

"Houston, We Have A Wormhole"
05/03/17
Sandy's new invention, a dimension hopper, is ready to be tested when Patrick decides to try it out for himself. With Patrick lost in time, the gang must use Sandy's backup device to travel through various spin-offs on the wiki.

14

"Great Scott!"
29/03/17
Continuing from last episode, the gang continues their journey to find Patrick and find themselves stuck at the literal end of the world.

15

"Help"
01/04/17
Simply just a re-dub of the SpongeBob SquarePants pilot episode, Help Wanted, made for April Fools day.

16

"Romantic Children"
03/04/17
While surfing through ESB, SpongeBob finds out that Luan and SpongeBuck are married thanks to a user called Chase McFly.

17

"The Worst Episode Ever"
25/04/17
What is going on inside SpongeBob's head? We find out not only what happens inside SpongeBob's head but many others too in this Inside Out parody.

18

"Temmie and Temmy: Superhoi Saga"
03/05/17
Temmie creates the best selling video game ever but it plays similary to another game and he has to go to court!

19

"Patrick's First Date"
04/05/17
Patrick has a date with a mysterious person

20

"The Mystery"
14/05/17
SpongeBob is off work sick with diarrhoea and discovers the joys of reading but everything takes off when a mysterious person steals SpongeBob's book and the gang must set out to retrieve it.

Movie

"The SpongeBob n' Stuff Movie"
17/06/17
SpongeBob must go on a journey to discover who he really is and to save the world.

21

"That Episode Where We Find Out Stuff About Temmie But I Can't Say What 'cos Spoilers"
21/08/17
We find out something about Temmie but I can't say what 'cos spoilers n' stuff so, like, read/watch the last episode before you read/watch this one.

22

"Temmie's Regular"
12/09/17
Temmie discovers that Plankton absolutely loves Temmie Flakes and he gets hired at The Chum Bucket.

23

"2 SP00KY n' Stuff"
31/10/17
It's Halloween and the gang go trick-or-treating despite being too old for it. They don't realise the frights to come and that a certain villain will return...

24

"WHY WON'T YOU LET ME DIE?"
18/02/18
LightBob bets Kenny her golden fidget spinner that he can't go 24 hours without dying. Plankton tries to become Kenny's best friend and to stop Kenny from losing so he can make Kenny give it to him, so he can buy The Krusty Krab. (idea by Pluto)

[[Image:|95px]]

25

"Temstreet Boys"
TBA
Temmie, Kenny, UK, Robbie and Jeffy become a band called 'The Temstreet Boys'. SpongeBob, LightBob and Patrick enter a singing competition as 'The Jolly Wieners' to compete and see their friends perform as musical guests.

[[Image:|95px]]

26

"Prince Patreek"
TBA
Patrick feels under-appreciated so SpongeBob and co. transform him into 'Prince Patreek' for the day..

Movie

"The SpongeBob n' Stuff Movie 2"
TBA
TBA
Temmie n' Stuff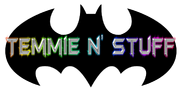 Temmie n' Stuff
is a spin-off to this spin-off but while programmed as one, it is considered an isolated season (with the two series sharing theme songs before fading into the new logo) and takes place before everything else. The show is canon to the original and takes place before as we see Temmie's double life as the prince and a superhero. The spin-off is also in widescreen.
Title card
#
Title
Airdate

1

"Temmie Begins"
02/03/17
Life as a superhero is tough, especially as you're also part of royalty. Temmie has to defeat the Joker twice whilst keeping his double life a secret from his parents and everyone around him.
TBA
Title card
#
Title
Airdate

TBA

"Toothpick Crossbows"
TBA
SpongeBob and Patrick play with their toothpick crossbows (a new craze which will apparently be a fidget spinner's worst nightmare) but get into serious trouble when one of their toothpicks hit someone's eye.
Shorts
Season One
Title card
#
Title
Airdate 

1

"Cringy Walk Cycle"
21/11/16
SpongeBob struts down to The Bee Gee's Stayin' Alive.

2

"Turkey Day"
24/11/16
Patrick celebrates 'Turkey Day'.

3

"Jingle Smells"
29/12/16
SpongeBob and Patrick remember that they forgot to celebrate Christmas so celebrate Kwanza instead.
Season Two
Title card
#
Title
Airdate

4

"Illuminati Entertainment"
28/06/17
Plankton loses a bet with his computer wife Karen and has to pay for and watch Despicable Me 3 at the cinema. The film gives him an idea to hypnotize the Temmies to serve him like the minions in the film.

5

"BUT IT'S FUN"
27/07/17
Squidward complains about the Splatoon memes featuring him as the star.

6

"Star Wars Maniac"
13/08/17
Patrick reacts to the newest creature in the Star Wars universe: porgs.

7

"Welcome to the Secret World Inside Your Phone"
19/08/17
I was bored.

8

"More Than Just Memes"
13/09/17
Squidward stands up for himself, loathing the show and the Squidward memes..

9

"I Don't Wanna Go..."
22/09/17
OH NO! PLANET X IS ABOUT TO CRASH INTO EARTH! THE WORLD IS GOING TO END! WHAT EVER WILL WE DO? lol rip
Story Arcs
Trivia
The meme concept wasn't introduced until the second episode.
Temmie was added as a joke.
Kenny is a parody of Kenny from South Park.
All season two episodes end with a hidden code.
Running Gags
All running gags debuted in season two, except the 'Falling John Cena' one which debuted in the season one episode The Final Solution but wasn't made a running gag until season two.
SpongeBob's cousin Kenny keeps dying with SpongeBob and Temmie mimicking the famous phrases from South Park.
Bill Cipher goes into disguise and portrays a various roster of characters in the backgrounds of episodes (this has so far appeared in every episode of season two).
Bill Cipher is knocked unconscious by John Cena who randomly falls from the sky to his theme song.
Writers
Theme Song
Season One
Season Two
Movies
See The SpongeBob n' Stuff Movie and The SpongeBob n' Stuff Movie 2...
LEGO Theme
The spin-off also has its own series of LEGO, it can be viewed at LEGO SpongeBob n' Stuff
Accolades
Year
Award
Category
Result
2017
1st TheJasbre202 TV Awards
Best Season (Season One)
Nominated
1st TheJasbre202 TV Awards
Best Episode (The Final Solution)
Nominated
1st TheJasbre202 TV Awards
Best Writer (PolarKey)
Nominated
1st TheJasbre202 TV Awards
Best Kids Spin-Off
Won
Featured Content
Featured Spin-Off
Won
Temmie Likes This
Spin-Off
Won
5th Square Logo Awards
Best Spin-Off
Nominated
5th Square Logo Awards
Best G Spin-Off
Won
5th Square Logo Awards
Best Movie (The SpongeBob n' Stuff Movie)
Nominated
5th Square Logo Awards
Best Short (Star Wars Maniac)
Nominated
Pluto Awards
Best G Spin-Off
Won
Gallery