Rated G - General Audiences

This article is rated G, meaning it is appropriate for all ages.

Underrated

This article is underrated, you guys really suck.

SpongeBob n' Stuff

Original run
TBA
Genre
Cartoon, Comedy
# of seasons
2
# of episodes
11 (Season 1)
Spin-off status
Active
Writer(s)
PolarKey
Production company
Polar Inc.
SpongeBob n' Stuff is a spin-off to the popular Nickelodeon show SpongeBob SquarePants created by PolarKey with his company Polar Inc.. The show was initially a generic SpongeBob show until it started referencing memes and therefore merged them together to create the spin-off we know today. It airs on Fox Kids, Playhouse Disney and Temmie Central.
Plot
When Bikini Bottom suddenly becomes home to your favourite meme characters, there are endless possibilities for SpongeBob and the gang's next adventure.
Cast
Patrick - Bill Fagerbakke
Squidward - Roger Bumpass
Donald Trump - Donald Trump
Bill Cipher - Alex Hirsch
Robbie Rotten - Stefan Karl Stefansson
Stingy - Not Credited
Perch Perkins - Dee Bradley Baker
Kenny - PolarKey
Episodes
Season One
Title card
#
Title
Airdate 

1

"Camping Trip (SNS)"
08/11/16
SpongeBob, Patrick and Squidward go on a camping trip. Meanwhile, Mr. Krabs robs himself. 

2

"Thanksgiving (Kinda)"
13/11/16
SpongeBob learns about the holiday 'Thanksgiving' and becomes obsessed with thanking people and somehow gets possessed by Bill Cipher.

3

"Patrick Superstar"
13/11/16
Patrick becomes a superhero.

4

"R.I.P"
23/11/16
Squidward 'accidentaly' kills SpongeBob and must find the sea witch to bring him back to life (wow, this got dark so fast). 

5

"And a Nappy New Year!"
31/12/16
SpongeBob and Sandy accidentally have a baby just in time for the new year and try to get rid of it but fail each time.

6

"Le Chum Bucket"
11/01/17
Squidward quits the Krusty Krab and becomes head chef at the Chum Bucket.

7

"Turn Down For Trump"
22/01/17
Donald Trump buys the Krusty Krab, after his son Stingy begging for it, which leads to Mr. Krabs and Plankton teaming up to get it back.

8

"A Temmie Reunion"
30/01/17
When Temmie's family come to visit (who belong to royalty), SpongeBob and Patrick think he'll leave Bikini Bottom for good!

9

"Goodbi"
14/02/17
When Squidward admits to his bisexuality, SpongeBob is determined to find his perfect match.

10

"Gaming the Game"
16/02/17
SpongeBob, Patrick and the gang get sucked into a video game dimension in one of Plankton's evil schemes. However, this evil scheme soon turns into one of Bill's, one that threatens Bikini Bottom.

11

"The Final Solution"
18/02/17
With Bill imprisoning basically everyone, SpongeBob sneaks out and teams up with a rebellion to give everyone freedom. (SEASON FINALE)
Season Two
Title card
#
Title
Airdate 

12

"My Hill"
TBA
When Mr. Krabs reads a story about a hill that can grant you freedom, fortune and overall goodness, he sends SpongeBob, Patrick, Temmie and new pal Kenny out to find it.
[[Image:|95px]]

TBA

"Mr. Meme Master"
TBA
SpongeBob decides to make his own memes on YouTube.
[[Image:|95px]]

TBA

"Romantic Children"
TBA
SpongeBob finds out that Luan and SpongeBuck are shipped on ESB.
Shorts
Season One
Title card
#
Title
Airdate 

[[Image:|95px]]

1

"Cringy Walk Cycle"
21/11/16
SpongeBob struts down to The Bee Gee's Stayin' Alive.
[[Image:|95px]]

2

"Turkey Day"
24/11/16
Patrick celebrates 'Turkey Day'.
[[Image:|95px]]

3

"Jingle Smells"
29/12/16
SpongeBob and Patrick remember that they forgot to celebrate Christmas so celebrate Kwanza instead.
Story Arcs
Running Gags
SpongeBob's cousin Kenny keeps dying.
Bill Cipher goes into disguise and portrays a various roster of characters.
Theme Song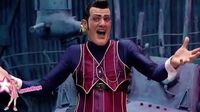 LEGO Version
The spin-off also has its own series of LEGO, it can be viewed at LEGO SpongeBob n' Stuff.
Gallery
Ad blocker interference detected!
Wikia is a free-to-use site that makes money from advertising. We have a modified experience for viewers using ad blockers

Wikia is not accessible if you've made further modifications. Remove the custom ad blocker rule(s) and the page will load as expected.