Locations


Locations such as eateries, stores and more made by fans

Spin-offs


Fan-made series based off of SpongeBob with an original storyline
Featured Content
If there are any pages here that you like, you can nominate them for featured article/spin-off/media here.
Featured Article
Featured Spin-Off

Internet Stalker Forums





Internet Stalker Forums is the thirteenth episode of Livin' With The Squid in which SpongeBob and Patrick find out that the only reason Squidward let them move in was so that he could make fun of them on Pineapple Farms, an online forum. (Read more)

The All New SpongeBob Movies





The All New SpongeBob Movies is a spin-off where SpongeBob's show gets cancelled so he gets a new one. In the new one he becomes a cop and marries Sandy. (Read more)
| | |
| --- | --- |
| Featured Article Nominees: | Featured Spin-off Nominees: |
What do you think should be our next featured article?
What do you think should be our next featured spin-off?
What's New on SpongeBob Fanon Wiki
Site News
There is currently no site news at this moment in time...
Spin-Off/Network News
Birthday News
PolarKey's birthday is some time this month but won't reveal when...
Da Nerd's birthday is on March 23rd (not 24th, weston)
Other News
Proposals and Discussions
---
---
Edit this month's proposals and discussions • See the history/archive of proposals and discussions
SpongeBob Fanon Wikia Central
Create blog post
Blogs
This wiki is supposed to be about SpongeBob Fanfics yet all I see whenever I check the wiki activit…

Read more >

Only a maximum of 2 users will be hired for the writer position. Please answer the following questi…

Read more >
See more >
Fan Blogs
Sup guys Originator here and today I hope you all read this blog. So remember my last blog? Well I might come back on and work on my pages, but I might need some help on some things like ideas for some of my pages, but I don't want to force you guys to give me ideas because I don't want to stress y…

Read more >
Sister Sites

Active Spin-Offs List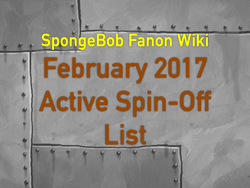 Ad blocker interference detected!
Wikia is a free-to-use site that makes money from advertising. We have a modified experience for viewers using ad blockers

Wikia is not accessible if you've made further modifications. Remove the custom ad blocker rule(s) and the page will load as expected.