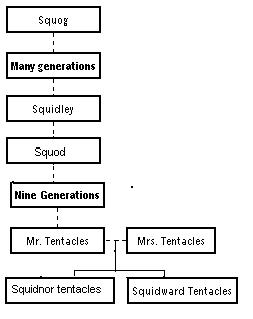 Squidward's mideaval and pre-history family
Squog
only seen in the episode ugh he was grouchy like Squidward
Squidly
seen in dances and dragon he was in the past but he was in the future by SpongeBob in Patrick this is Squidward's great great great great great great great great grandfather
Squod
he was mentioned in Shoe Gus Rash when Squidward say "that also happen by my great great great great great great grandfather he was squod he run out of gas"
Squidward's family
Mr. Tentacles
only seen in horray for dads book Squidward's father
Mrs. Tentacles
Squidward's mother
Squidward
SpongeBob best friend
Squidnor
He was mentioned in Doodle Revenge
Ad blocker interference detected!
Wikia is a free-to-use site that makes money from advertising. We have a modified experience for viewers using ad blockers

Wikia is not accessible if you've made further modifications. Remove the custom ad blocker rule(s) and the page will load as expected.