Stanley SquarePants
Gender
Male
Age
40
Nationality
Unknown
Hometown
Bikini Bottom/Unknown
Born
January 2, 1981
Created
Stephen Hillenburg
Professional Information
Profession
"Demolition Officer"
Friends and Family
Parents
Uncle Sherm
Siblings
Amy SquarePants
Behind the Scenes
First Appearance
Stanley S. SquarePants (real series)

The Faired (fan-series)

Voiced by
Christopher Guest
Stanley SquarePants is SpongeBob's clutchy cousin. He has the same face, the same SquarePants and the same shoes; but they'll still not a match. Stanley comes from Uncle Sherm's home. He has his own spin-off. He is a character on Plankton's Laboratory, serving as a protagoninst and/or antagonist. It is funny that Stanley and SpongeBob are Square and their parents are Circle.
Gallery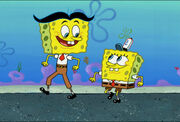 Ad blocker interference detected!
Wikia is a free-to-use site that makes money from advertising. We have a modified experience for viewers using ad blockers

Wikia is not accessible if you've made further modifications. Remove the custom ad blocker rule(s) and the page will load as expected.