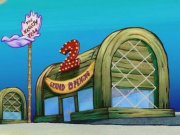 It was a
Krusty Krab
duplication Mr. Krabs opened in
The SpongeBob SquarePants Movie
. It got shut down in 2009 because it was another one of those lame excuses for Mr. Krabs to get money.
Menu
Krusty dogs $0.99
Patty $1
Fries $0.50
Hot dogs $1.25
Tacos $0.75
Large patty $1.25
XL patty $1.50
Small patty $0.75
Kelp fries $0.50
Drinks
Kelp Pepsi - $99
Patrickian Punch - $29.99(Because it's so mouth-watering, and plus, Mr Krabs didn't want just 600 extra dollars!)
Sunkelp - $99
Kelpshake - $50.00(Because it has a gross during-taste, but the best after-taste ever)
SpongeBob's Homemade Kelp Pepsi - $5.99 (5 extra dollars because the fry cook created it himself!)
Patrick Pepsi - $99
Mr.Krabs Soda- $500 (When you buy this you get 5 cents off ketchup!)
Ad blocker interference detected!
Wikia is a free-to-use site that makes money from advertising. We have a modified experience for viewers using ad blockers

Wikia is not accessible if you've made further modifications. Remove the custom ad blocker rule(s) and the page will load as expected.