Unrated
This article is unrated, meaning it doesn't have an official rating yet.
Upcoming - Made for announcement purposes

This article was made for announcement purposes only so don't expect any edits soon.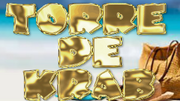 This series has now ended.
If the author chooses to revive it in the future, he or she should ask one of the

administrators

to unlock the page for them. Should someone else wish to continue this series, they should ask the author on their message wall.
Torre de Krab
(
translating to 'Tower of Krab' or 'Krab Tower'
) was an upcoming spin-off to the popular Nickelodeon show,
SpongeBob SquarePants
, created by
PolarKey
. It would have followed SpongeBob, Patrick, Squidward and the gang working at a holiday resort. It was cancelled before it even began airing although the first episode was three quarters written.
Ad blocker interference detected!
Wikia is a free-to-use site that makes money from advertising. We have a modified experience for viewers using ad blockers

Wikia is not accessible if you've made further modifications. Remove the custom ad blocker rule(s) and the page will load as expected.