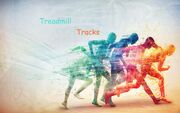 Scenario
Treadmill Tracks is one of the episodes for Season 11. In This Episode, SpongeBob looks for a good treadmill. He finds this yellow treadmill, with his name on it. Afterwards, he uses it.
Summary
When SpongeBob finds this treadmill store, he found Elmo patrolling the store. He asks SpongeBob if he needed a treadmill. He needed one, so he said "Yes". Then, Elmo walks him around the store, but then, he found a yellow treadmill saying: "SpongeBob is awesome". SpongeBob really wanted that one, since it had his name. Then, he asks Elmo for the yellow treadmill. He then accepted the offer. The treadmill cost $100.78 alone. SpongeBob had $105.00 When he gave the money, so he got $5 left. As soon as SpongeBob got home, he opened his all new treadmill, and then started his workouts.
Trivia
This is one of the times we see SpongeBob alone.
This is the first time we see Elmo as a store clerk.
Spongbob never works out, so why should this episode exist?
This is one of the times SpongeBob doesn't go to work.
Ad blocker interference detected!
Wikia is a free-to-use site that makes money from advertising. We have a modified experience for viewers using ad blockers

Wikia is not accessible if you've made further modifications. Remove the custom ad blocker rule(s) and the page will load as expected.